Terroir & vinification
La Royère's terroir is primarily sandy with alluvium pebbles that facilitate soil drainage. Over half of the vine's training system is formed in Gobelets, while the rest is exploited in Double Cordon de Royats. Our oldest vines are around a hundred years old.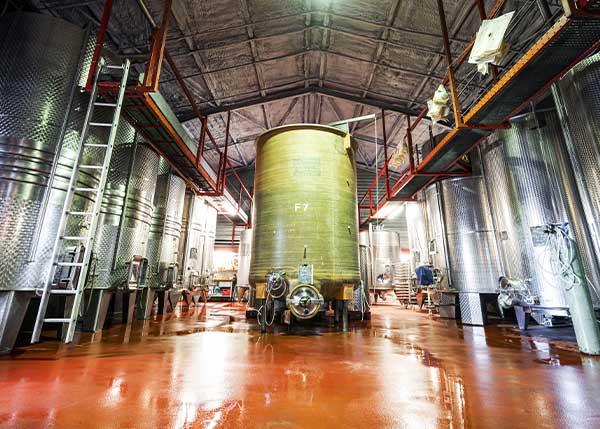 We harvest 60% of the production by hand in order to ensure the optimal quality of our wines. Yields are intentionally held low (around 30hl/ha), which contributes to higher concentration levels of polyphenols and an interesting overall acidity.
Whites and rosés are vinified with grapes that are brought in cool, then de-stemmed and delicately pressed in a pneumatic wine-press. Fermentation is processed in temperature-controlled tanks that help convey the complete aromatic potential of the grapes, as well as the distinctiveness of our cuvées.
Reds are de-stemmed and crushed before being put into vats. They are subjected to a longer period of fermentation with daily pumping-overs to extract texture and work the tannins in finesse.
Wine blendings are elaborated during winter, the cuvées then get some time to refine themselves before being lightly filtered and finally bottled. Depending on the vintage, some of our wines are aged in oak barrels between 4 and 24 months. Visits and tastings at the estate!
Grape Varieties and Appellations
We grow most of the emblematic Rhône Valley grape varieties and do our utmost to fully express their typicity in the blends we produce under the AOP Luberon* and IGP Méditerranée / Vaucluse** appellations.
*Protected Designation of Origin
**Protected Geographical Indication
In total, around 15 grape varieties are cultivated and a dozen of cuvées are produced in red, rosé and white. Syrah and Grenache however constitute the heart of the AOP Luberon appellation, which are used for reds as well as rosés. Whites are predominantly constituted of Grenache blanc and Vermentino.